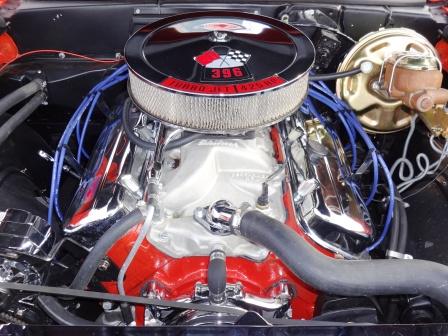 Have you ever considered replacing a classic Chevrolet car engine in a Chevy car or truck? This article focuses on the history of the big block and small block classic Chevrolet car engines from the 1960s through present-day. However, it remains relevant to any owners of General Motors automobiles seeking detailed engine information.
Whether you have a 1970 Chevrolet Chevelle Super Sport or a workhorse 1995 Chevrolet Silverado pickup truck you might consider replacing the engine at some point. Making a sound decision on what to replace your tired engine with begins with understanding the engine the factory installed on the assembly line. In this article we'll cover some interesting facts about classic Chevrolet car engines including an evolutionary timeline and milestone moments.
We'll also cover replacing your tired Chevrolet power plant with a brand-new engine that will drop right in. Chevrolet engines can go a long way when properly maintained. Nevertheless, sometimes these engines give up the ghost before we're ready to give up the automobile. So let's dig in and learn about the history of these impressive Chevrolet engines. And let's consider re-powering these automobiles to keep them in the family where they belong.
Chevrolet Engines the Big Block
Regardless of the size of your classic V-8 powered Chevrolet, car or truck it came with one of two sized engines. Obviously, the answers are a big block V-8 or the more common small block V-8 engine. They offered the big block power plants in a variety of engine sizes throughout the years. Before 1970 General Motors offered big block engines in 396 cubic inches and in the 409 displacement made famous by the 409 Beach boys song.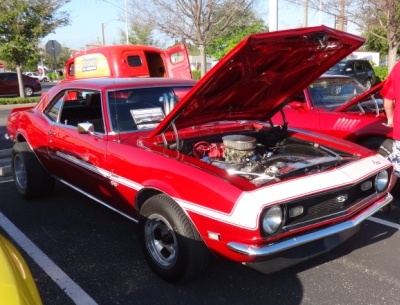 In the late 60s Chevrolet launched its most powerful big block up until that point with the 427 cubic inch power plant. The standard LS5 version pumped out 390 HP and 500 foot-pounds of torque. Although a few of these engines found their way into several different models most of them wound up under the hood of the Chevrolet Corvette models and Chevelle's. The 427 Chevrolet big block V-8 became the blueprint of what would follow in the next decade.
After 1970, the only big block engine available came in the one-size-fits-all 454 cubic inch, 7.4 L V-8 motor. One of the most amazing facts about this engine is they're still built today in General Motors manufacturing facilities. When you talk about an engine standing the test of time the 454 becomes the very definition of the statement. With that said, the 7.4 L monster power plant saw some dark days in the early 70s during the fuel shortage crisis.
The 454 classic Chevrolet car engine reached its maximum output of 450 HP with the LS6 version built in 1970. By 1973 the LS4 version of the 7.4 L V-8 produced a miserable 275 HP. However, this wouldn't be rock-bottom for the once mighty V-8. They continued to build the engine as the horsepower dropped off through the years. In 1990 they launched a 20th anniversary 454 Chevrolet super sport pickup truck. The 7.4 L motor produced an embarrassing 230 HP. Two things stopped this engine from fading into oblivion. The legendary reliability and longevity coupled with an always amazing 500 foot-pounds of torque.
Classic Chevrolet Car Engine the small Block Version
When vintage car fans gather in a room and start talking about classic Chevrolet car engines, it doesn't take long for the conversation to turn to the 5.7 L, 350 cubic inch small block Chevrolet V-8. General Motors first installed the engine in the all new 1967 Chevy Camaro pony car. In 1969 they boosted the compression ratio, installed high flow 202 cylinder heads and opened up the exhaust system.
The result turned into the 350 HP, 350 cubic inch monster small block. It's not often that a vehicle manufacturer builds an engine that produces exactly 1 HP per 1 cubic inch. Even the 10: 5 to 1 compression ratio small block produced a reasonable 300 HP on regular pump fuel. Unfortunately, by the early 1970s, this engine slid into a slow demise just like its big block brother. Fortunately, the aftermarket world rallied around this engine and continues to manufacture aftermarket parts to bring the horsepower levels back up to where they used to be.
Re-powering your Classic Chevrolet Car or Truck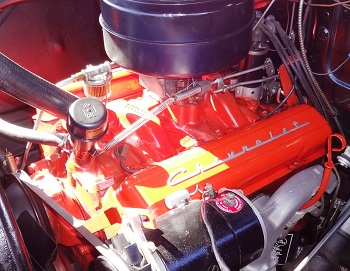 Even the most cared for classic Chevrolet car engine will eventually find itself in need of either rebuilding or replacing. Of course a classic car with its original engine is always worth more than one with a replaced power plant. If you believe your car or truck could be worth money someday, you need to hang on to the original engine. With that said, dropping in a fresh crate motor becomes one of the most cost-effective solutions to re-powering your classic Chevrolet.
Automobiles with a small block 350 Chevrolet power plant make excellent candidates for brand-new small block V-8s supplied by Chevrolet. The question is how much will a brand-new Chevy 350 engine cost? The answer may surprise you. You can order a new replacement crate engine directly from Chevrolet for $3400. This bargain priced engine includes a chrome dress-up kit and aluminum intake manifold. With a 300 HP rating this remains a value priced engine that delivers ample amounts of get up and go.
Those interested in replacing their 454 cubic inch engine with a direct from Chevrolet power plant will have to pay more. In fact, were actually talking about almost double the price of the Chevrolet small block. With that said, the factory fresh 454 7.4 L crate engine pumps out an impressive 438 HP. With the steep price tag of just under $7700 classic Chevrolet car engine owners might be interested in seeking alternative solutions. High-performance auto parts supply companies like Jegs and Summit racing offer more affordable solutions for replacing big block Chevrolet power plants.