I hope you never have to learn how to remove seized spark plugs from your automobile. However, as motorists keep their cars longer than ever before mechanics on the front lines see this issue more often. For the car owner, the spark plugs seem out of sight and out of mind. The extended life of these maintenance items means they stay threaded into the cylinder head longer.
Unfortunately, this is not one of the four car services that you can skip. Even the most expensive iridium spark plugs require replacement somewhere between 100,000 miles and 150,000 miles. If you can imagine anything exposed to that much heat and compression for 10 years and one hundred and 50,000 miles you can see why this thing doesn't want to come out easily. If you think about the best case scenario you can use some of the tips I provide below and you'll get the spark plug out.
Nevertheless, the possibility exists that this part will not come out without a fight. This struggle between do-it-yourself mechanic and seized spark plug can damage the cylinder head. This brings us to the worst-case scenario when you remove seized spark plugs. You could wind up having to pull the cylinder head and in extreme situations, maybe even replacing it. With that said, we won't go down that road unless we have to.
Why Spark Plugs Seize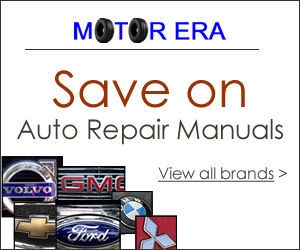 We touched on one of the main reasons that the spark plugs get seized in its bore in the opening. These things, originally installed on the factory assembly line stay in one position for a long time. One of the laws of physics states, that an object that stands still tends to stay standing still.
With that said, we have more problems to overcome in a scenario where the original plugs remain in place after 10 years 100,000 miles. Cars built 10 years ago already started using aluminum cylinder heads. These large engine parts benefited from their aluminum construction and shed around 100 pounds from the vehicles total weight. Unfortunately, the spark plug that screws into the threaded hole that allows the electrode to spark combustion has an outer shell constructed of steel.
This coexistence of dissimilar metals is a breeding ground for corrosion. Since this corrosion occurs over such a long period of time it can be a formidable bond to overcome. If things weren't bad enough, another reason we have to learn how to remove seized Spark plugs is the existence of carbon. Black carbon remains a natural byproduct of combustion. The longer the spark plug stays in the hole the more carbon builds up around the parts sticking into the combustion chamber. In fact, by the time you go to remove the spark plug there could be a ball of carbon formed on the inside surface around the spark plugs. This gives us another obstacle to overcome.
Steps for Removing Seized Spark Plugs
We have an important step to discuss before we start removing seized Spark plugs. Since most spark plugs install into a recessed area or a gallery, grit and dirt collects in this area. Professional mechanics take compressed air and blow this area clean before they begin work. Do-it-yourself mechanics can accomplish the same task by using a can of compressed air or even a leaf blower if you have to.
The point is you should make sure that all sand, grit and dirt is removed from the area before you start. When mechanics attempt to remove seized spark plugs they can often get that first quarter turn before the plug tightens up. This becomes an important point to make. In other words the spark plug usually breaks loose, but then gets stuck, because of all of the reasons mentioned above.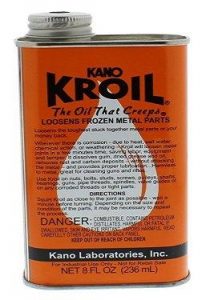 This quarter turn out from completely tight allows us to soak the area in penetrating oil. When you break a spark plug loose and it doesn't turn out freely, you should soak it down and let it sit for at least an hour.
Not only will the penetrating oil help break the corrosion bond between the steel threads in the aluminum cylinder head, but it can also soften the carbon deposits formed in the combustion chamber. There are several important points to make on how to use the penetrating oil in this situation. The first thing is you want to install a liberal amount.
The second most important thing is to keep the area wet with the penetrating oil. If the fluid is allowed to dry the freeing action it provides stops. Although instructions will dictate that you leave the vehicle set for more than an hour to allow the penetrating oil to work, it's just as important to keep this area wet with the fluid. This means several re-applications within that one hour time period.
Important Tips for Removing Seized Spark Plugs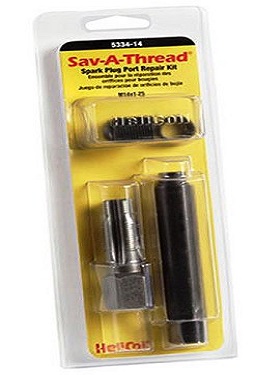 The longer any spark plug sits in the engine the harder it will be to remove. When the threads of the spark plug are made of steel and the aluminum cylinder head threads are made out of aluminum you must apply liberal amounts of caution. It doesn't take much to destroy the soft aluminum threads in the cylinder head. And doing so means drastic repairs or possibly replacing that cylinder head. Here's an example.
Although they make Helicoil Repair Kits to repair cylinder head spark plug threads they aren't as good as factory installed threads. In other words, if you make one of these radical repairs it's possible for the spark plug the blowout of the cylinder head when driving down the road. When mechanics try to force the plug out by applying extra muscle, this is when the trouble starts to snowball. In the end, even the best mechanics can run into situations where they can't save the cylinder head.
If you're fortunate enough to get those original spark plugs out let's talk about what we should replace them with. See my tips for choosing the right replacement spark plugs for your car. In addition, make sure you put anti-seize compound on the threads of the new spark plugs to prevent having to remove seized Spark plugs again. For accurate instructions on how to remove your spark plugs pick up a vehicle specific PDF auto repair manual.